Casting manufacturing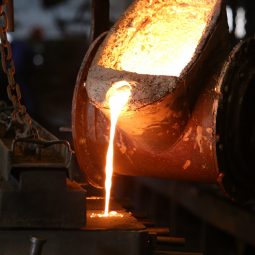 Casting manufacturing
In order to meet demands for low volumes as well as for atypical castings, hand-made casting is offered in our foundry. Our hand casting team consisting of 5 skilled workers has a large production capacity and manufactures machine castings, cast street furniture and lamp posts. Low and medium volume orders are produced by our semi-automatic shaping machines in our moulding boxes of standard inner sizes, 500 x 600, or 600 x 800.
In our core making workshop, a large team of professionals works with two types of technology to manufacture the so-called sand cores necessary for hollow castings.
Our induction furnaces equipped with a crucible of 2 x 1.200 kg can melt 1.400 kg metal per hour. In our cleaning workshop, the castings are sand propelled by shot-blasting machines equipped with conveyor rails, Y tracks, or rubber bands. Thereafter, they are cleaned by pedestal or portable grinders.